The Aquarium was released in September 2016 at Sapphire Shop and Den Depot for 75 Sapphires.
Appearance
The Aquarium is built in a large garden on the seafront. The whole building is a huge aquarium of 3 floors surrounded by 2 stone ponds on each side with a green roof and wooden flooring. Most of the walls are large bay windows.
The stairs on the right lead to the second floor where both walls and flooring are made of teal colored see-through glass. It gives the impression that we are in the sea amongst the fishes.
From there, the left stairs lead to the terrace. There is a stone sea horse fountain on the left, and two portholes placed on the floor to see the fishes. Near the smallest porthole, a large, green attic is visible, however cannot be reached by regular means.
Attractions
Fish, plants and aquarium items are available at the Shop to fill the aquarium. They are available for purchase for Gems and Sapphires.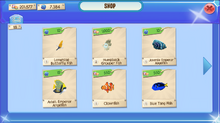 History
| Date Released | Place | Price | Date Removed |
| --- | --- | --- | --- |
| September 2016 | Sapphire Shop and Den Depot | 75 Sapphires | N/A |
 Trivia
None of Shop's items can be traded, though they can be placed on your Wishlist.
This is the only den that comes with a shop with items that can be used to customize the den.
The den is the cheapest den bought by Sapphires as it does not include the fish that can be bought in the Shop

.

During July 2020, there was a sale going on for the July monthly "Super Sale". However it did not go away from the Sapphire Shop or the Den Depot, which makes it the first den to go on sale and not go out of store.
This is the only den that has a pop-up when purchased.
Gallery