Jam Mart Clothing is a place located in Jamaa Township that sells clothing for all Jammers to buy using their Gems. 
Description
Outside
From the outside, Jam Mart Clothing appears to be a building somewhat looking like a castle. There are three "towers" on three of the four edges of the building. A clothing icon is printed above the doorway.
Inside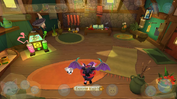 From the inside, Jam Mart Clothing appears to be a fairly small room. The floor is made of wood, and there are rugs all over the floor. Rolls of cloth and lanterns are spread all over the room, and there are a couple of windows.
On the back, there is a small table with an open book lying on top of it, as well as different item clothing on it. To the left side, there is a recycling machine, and a log carved into a bench with a shelf and lantern on it.
In the Beta Testing and until February 2016, there was 3 tables displaying items sold at Jam Mart Clothing and on another part of the room, there was a recycling machine. In a corner of the room there was a small desk with an open book lying on top of it, as well as a card reading "SALE". To the right side, there is a log carved into a bench. To the left, there is a shelf with a lantern on it.
From February 2016 until October 2016, there was a small desk on the front of the room.
Music
Shop
The Jam Mart Clothing shop can be accessed by tapping on:
The open book lying on the top of the table (or by tapping one of the items on the front tables until February 2016) in Jam Mart Clothing
The Jam Mart Clothing button in the Jammer's clothing dashboard
The shop lists clothing items that can be shown or ordered by type (head, face, neck, back, feet), alphabetical order or price. Different tags give informations about the validity of items.
Tapping on the items pops its card where Jammers can select colors to purchase. Jammers can try on the item by tapping the Accessory Preview button before purchase. Before June 2017, a mirror stood near the bamboo fence.
Trivia
Jam Mart Clothing has the same music as Jam Mart Furniture.
Every Monday an item with a Rare Tag is sold, but only for that day.
Gallery
Community content is available under
CC-BY-SA
unless otherwise noted.