The Spooky Party is a seasonal party for all animals. This party was first introduced in October 2015.
Description
The Spooky Party takes place in an inverted Haunted Mansion. The withered garden is on the left side whereas it's on the right in the Haunted Mansion. The furniture shop stands on the ground floor. The Clothing shop stands in the attic.
Music
Attractions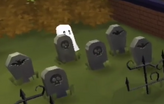 The two shops provide spooky-themed clothes and den items. A ghost appears when Jammers comes close to the cemetery in the garden.
Spooky Shop
| Year | Clothing Items | Den Items | |
| --- | --- | --- | --- |
| 2015 | | | |
| 2016, 2017 & 2018 | | | |
| 2019 | | | |
| 2020 | | | |
Gallery