The Tiger Resort is a secret area accessible only by using a Tiger through the Tiger Passage located in Crystal Sands. Jammers can also enter the Tiger Passage by tapping the Tiger icon on the Crystal Sands map.
Description
It is a sandy beach with a Hut that looks similar to the Juice Hut in the background that serves as the shop. There is a small boat that is beached near three different colored towels in the sand. There a few red Lawn Chairs around the area. There are many palm trees and small plants that grow in warm conditions around the island.
Music
Attractions
When a Tiger performs the play action, a sand cloud appears.
If at least 2 Tigers play, a Tiger made of sand appears.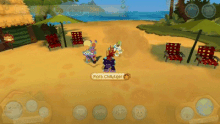 Tiger Resort Shop
  Gallery