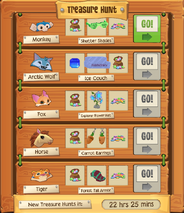 The Treasure Hunt was a feature introduced in 2015. It gave players a chance to search for items and gems. The Treasure Hunt gave players a chance to have more than five keys (default number of keys) by purchasing more animals. On May 29, 2019, players could watch a short video ad for an extra 3 keys.
On April 29, 2020, the feature was discontinued, replaced by the Daily Spin.
Rewards
Each animal treasure hunt contained one primary treasure chest and multiple secondary treasure chests. The secondary reward often consisted of different quantities of Gems. Less often one of the secondary rewards would be a sapphire. The primary reward was a clothing accessory or den item.
Until December 2015, Rare items could be won through Bunny, Wolf, and Arctic Wolf Treasure Hunts. In 2017, some Rare items could be won through the Fox, Penguin, and Horse Treasure Hunts as they were given Traveling Salesman variants.
Sapphire Wednesday
Every Wednesday, an extra treasure hunt is available that will reward Sapphires as its primary and secondary prizes. 

Mystery Treasure Hunt
Every Monday, an extra treasure hunt is added to the list with a mystery item as its primary prize. These items are the Rare Item Monday variant of another item.
Phantom
During the Night of the Phantoms, an extra treasure hunt was added to the list. This extra Treasure Hunt was named Phantom Treasure Hunt.

Treasure Hunt Locations
The Treasure Hunt activity once paired each treasure hunt with a location on a map and displayed the map instead of the treasure hunt list. This was removed later.
Trivia
The treasure chests containing items used to be a light blue in color, but were changed to green after Sapphire chests were introduced.
Each extra animal bought granted 1 extra key for the treasure hunts with a maximum of 10 keys per hunt.
Gallery