The Wolf Cave is a secret area that can only be entered by Wolves, Arctic Wolves, Direwolves, and Maned Wolvesthrough the Wolf Passage in the Coral Canyons. Jammers can also enter the Wolf Cave by tapping the wolf icon on the Coral Canyons map.
Description
This is a medium sized cave illuminated by torches, blue crystal patches, and a flowing river of lava. At the back of the cave, is a raised area that holds the the Wolves Cave Shop stand.
Music
Attractions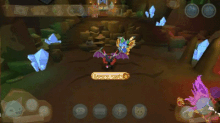 When a wolf performs the play action, the entire cave will shake and rocks will fall from the ceiling
If at least 3 wolves play, a wolf made of fire will appear in the center of the cave
 Wolf Cave Shop
Trivia
Maned Wolves can enter the Wolf Cave despite not being wolves.
Direwolves were allowed to enter the Wolf Cave, this was later changed.
Gallery